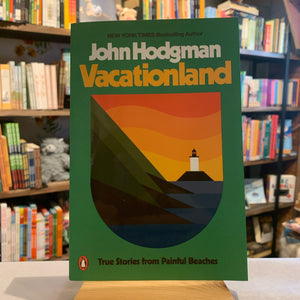 Vacationland collects real-life wanderings through the hills of Western Massachusetts where he spent much of his youth; the painful beaches of Maine that want to kill him (and someday will); and the metaphoric haunted forest of middle age that connects them., and through them, you learn of the horror of freshwater clams, the evolutionary purpose of the mustache, and which animals to keep as pets and which to kill with traps and poison. There is also some advice on how to react when the people of coastal Maine try to sacrifice you to their strange god. A poignant and sincere account of one human facing his forties, those years when men, in particular, must stop pretending to be the children of bright potential they were and settle into the failing bodies of the wiser, weird dads that they are.
Available in hardcover and paperback. 272 pages.

Shop Medallion Status.