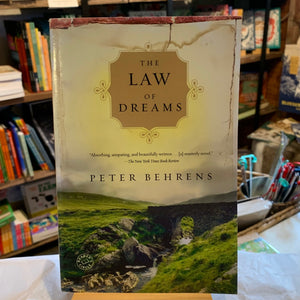 The Law of Dreams tells the story of a young man's epic passage from innocence to experience during The Great Famine in Ireland of 1847.
     On his odyssey through Ireland and Britain, and across the Atlantic to "the Boston states," Fergus is initiated to violence, sexual heat, and the glories and dangers of the industrial revolution. Along the way, he meets an unforgettable generation of boy soldiers, brigands, street toughs, and charming, willful girls – all struggling for survival in the aftermath of natural catastrophe magnified by political callousness and brutal neglect.
     Peter Behrens transports the reader to another time and place for a deeply-moving and resonant experience.  The Law of Dreams is gorgeously written in incandescent language that unleashes the sexual and psychological energies of a lost world while plunging the reader directly into a vein of history that haunts the ancestral memory of millions in a new millennium.

Paperback. 420 pages.