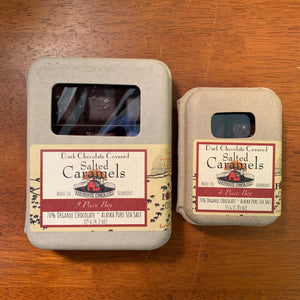 Dark, richly developed caramel isn't for everyone. Not too sweet, with toasty notes and intentional, subtle bitterness. This is a caramel for those who think other caramels are too bland, too sweet. We think it's the absolute perfect blend of sweet, dark, and salt (and too many to count agree!).

Hand dipped in certified organic, fair trade 70% chocolate, our old world, small-batch, browned butter caramels are finished with a sprinkle of artisan Alaska Pure Sea Salt from Sitka, Alaska, creating a confection of smooth, toasted, buttery richness, with a touch of salt.

We dare you to just eat one.

Warning: Seductive, richly developed flavor may convert chronic caramel critics. 
Corn syrup free, GMO free, Soy free.
Flavor FULL.
Sharing optional.